Photo credit: ©crown copyright 2014 OGL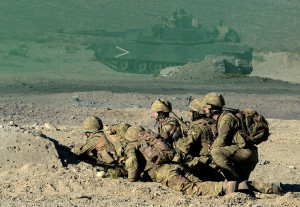 Fresh Thinking for Early Leavers – Fresh from the Front Line?
Lord Ashcroft, the Prime Minister's Special Representative on Veteran's Transition, published his report on the 11th February 2014.  It was a comprehensive project that encompasses current policies and provisions for service leavers to include education, training, future employment, health, welfare, finance and the supply and quality of information to those engaged with transition from the Armed Forces.
It is a highly creditable performance.  Interestingly the report tackles some negative issues that need to be addressed as well as outlining some positive suggestions for future attention.  The first negative to be eliminated is the perception by 91% of those questioned in a survey that many service leavers have either mental, physical or emotional issues as a result of their time in the military.  In fact, the issues attributed to the services reflect the same preponderance of these maladies in everyday society.  This means that the vast majority of service leavers are healthy and able to make a massive contribution to society.
One pressing need was to provide greater support for early service leavers.  These are men and women who have served less than six years.  At present, they do not get the same transition support of longer serving members.  It is likely that within this group are personnel who have been on the front line as an intense and recent experience.  To be expected to adjust from the heat of battle to civil society is asking for trouble.  From leaving one tight knit community with known codes of conduct and clear lines of communication to one where there are no rules. Without guidance society failing to appreciate and welcome people who have been prepared to pay the ultimate price for that society that has become an alien place.
Clearly more work needs to be with the military mind-set as regards to changing the perceptions of those newly recruited.  The report proposes a PDP, a Personal Development Plan for new recruits that begins the process of returning to society as a parallel exercise with their military induction.  The logic being that individuals will gain education and training that will increase the chance of a successful long term resettlement back into society.  Let's hope that these parallel lines produce a better outcome for individuals, their partners and families.