Photo Credit: © Crown Copyright 2014 OGL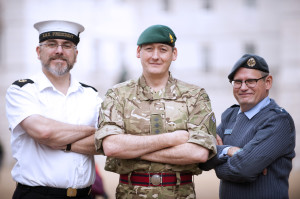 Keep Panic-Don't Calm!
Getting Your Mind Right for Leaving
The Heightened Readiness for Resettlement Course
'Keep Panic-Don't Calm' – remember this frantic cry from Sergeant Jones in Dad's Army?  The first reaction to leaving the forces is often a blue funk, of panic and confusion and extreme stress. 'What will I do? Where we live? What about the kids schooling? Shall we rent or get a mortgage?  – I've got to get a job and quick!'
Keep calm and don't panic.
The key to planning for a smooth transition and laying the groundwork for the next phase of your working life is starting at the right place. And that's starting with you.  Giving you permission to forget about all other considerations and think about your own talents and skills to gain fulfilment in your future working and private life.
Once you've gained that clarity a way forward will present itself as a logical, actionable process. Experience indicates that those who concentrate on immediate practical or financial needs realise after a short time they've made rash decisions; ones that are not giving them satisfaction in their working life;  ones that could be having a negative impact on partners and family.  Valuable time is lost, they have to reverse and start again – without the support and training choices available before they left.
It does not automatically follow that because you've got a speciality you will want to follow the same route for the rest of your working life. This vital time before leaving is where you can look at all the options and use the opportunities available to achieve a future that is totally in-line with both head and heart.
There is one crucial element you must accept.  Whether you have a speciality or not, your time as a member of the Armed Forces has been the most incredible preparation – the most pertinent training for life after leaving – because those years have moulded the person you've become. The respect you have earned. The way you think.  The way you act.  The way you've demonstrated professionalism – these are all exceptional core traits that are highly regarded and in great demand.  Believe it. Confidently use them to your own personal benefit.
Over the last twenty years Just Resources has had the privilege of training the forces in Diversity and Equality.  The insights we've learned have helped to create a new transition course, entitled 'Heightened Readiness for Resettlement'.  It is an intensive 3 day experience working with small groups to help them gain that vital clarity of direction and appreciation of their own self-worth in a career development environment.  The course will either confirm a direction of travel or open new vistas to explore with further targeted training.
If you need to get your mind right for leaving: if you need to lay the foundations for a successful and satisfying future working life this course could be your first step.